Cemetery Cleaners
offer several professional annual cleanup packages.
Services available.
We at Cemetery Cleaners pride ourselves at being able to provide a personal and sensitive touch to ensure that your loved one's resting place is tendered with dignity and respect to the highest standards.
Our service is designed to give peace of mind to family, relatives and friends who may be living overseas or another part of NZ.
The initial visit will be free to assess the condition of the grave site and headstone which may require a clean and re letter to bring it up to a good standard that can be maintained for the future.
We can offer 6 monthly visits, 12 monthly or longer depending on your needs.
  A free written quote will be given for any work that is necessary.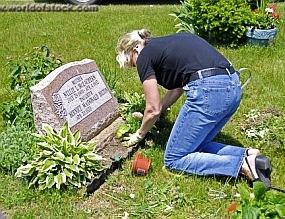 Standard Care Package

Light pruning of any shrubs, small trees or other plants.
Removing of all leaves and debris.
Trimming the grass edges, general plant care.
Cleaning of any decorative chipping and stone kerbs.
Cleaning the site to remove dirt, moss and mildew.
Updating you on the overall grave condition, email/post.
Cleaning of flower vases and supplying fresh flowers.
Frequency of visits can be 6 or 12 Months or longer.
Prices are $70.00 per annum (1 visit). Taranaki wide.
Long term moss killer applied.
Other areas by arrangement.
Price depends on location and condition of site.
Extra Package available
Pre funeral (short notice) clean up.
Anniversaries or Birthdays.
Christmas or Easter.
A free written quote will be given first
We will treat your family grave like our own.